Resistors for Pulsed Power
R Series
Pulsed power applications present a unique set of thermal problems. Frequent cycling of power can cause materials to expand rapidly, sometimes with destructive effects.

By closely matching the Coefficient of Thermal Expansion (CTE) of adjoining materials, catastophic failures can be eliminated.
Below are some of Barry Industries' Standard 
Copper-Tungsten flanged resistors
. Engineers are welcome to 
contact us
 and we will design a 
Copper-Tungsten flanged resistor
 to your exact specifications.
Customer defined testing is available on all Barry devices.
To minimize CTE mismatch and increase thermal conductivity, a Gold-Germanium eutectic is used to bond the BeO to the flange. To further minimize CTE mismatch, a Copper-Tungsten flange is used.

The Gold-Germanium layer is chemically compatible with the Gold plated ajoining layers, and no embittling metallics will form. The Gold matrix exhibits outstanding ductility, corrosion resistance, low diffusivity and low toxicity, as opposed to lead.


Specifications:

Resistive Element:

Substrate:

Mounting Flange

Leads:
Proprietary Thick Film

BeO

Copper-Tungsten

Gold Plated Copper (.005" thick)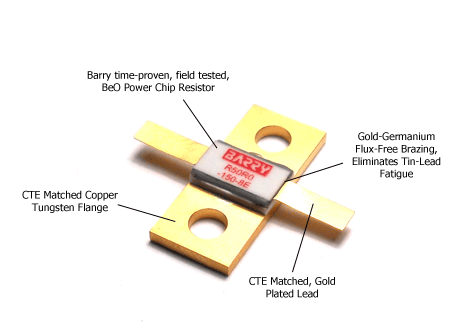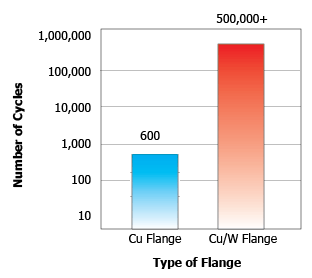 Cycling Test Details
• Applied Power: 250W
• Cycle: 10 seconds On, 10 seconds Off

Cycling Test Results
• All Copper flanged resistors failed after 600 cycles
• All Copper-Tungsten flanged resistors still operational after 500,000 cycles






CW Power
(Max)
(W)

Configuration

Ceramic

A
Length

B
Width

C
Hole to Hole or Hole to Edge

D
Lead Width

E
From Bottom Face of Lead
F (Max)
Height
G
Hole Diameter

RoHS

Data Sheet
30

BeO
0.515"
0.250"
0.125"
0.060"
0.105"
0.140"
0.130"
Yes

50

BeO
0.515"
0.250"
0.125"
0.060"
0.105"
0.140"
0.130"
Yes

80

BeO
0.515
0.250"
0.125"
0.060"
0.125"
0.160"
0.130"
Yes

150

BeO
0.800"
0.230"
0.600"-
0.560"
0.040"
0.105"
0.140"
0.130"
Yes

250

BeO
0.975"
0.375"
0.725"
0.120"
0.165"
0.200"
0.130"
Yes

400

BeO
1.100"
0.500"
0.800"
0.250"
0.165"
0.200"
0.170"
Yes

800

BeO
1.90"
0.500"
1.550"
0.250"
0.190"
0.250"
0.170"
(4X)
Yes

One Hole High Power
Flange Resistor Configuration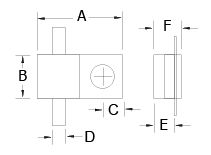 Two Hole High Power
Flange Resistor Configuration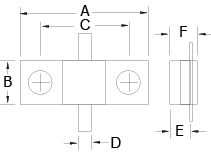 Four Hole High Power
Flange Resistor Configuration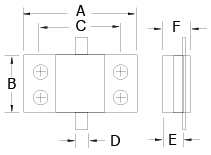 For more information regarding the benefits of using Copper-Tungsten flanged resistors high thermal cycle environments click here