1/4 Wraparound Chip Attenuator
AK Series
Barry Industries manufacturers a compact 0405 size 1/4 Wraparound chip attenuator on Alumina for solder surface mount attachment. Standard attenuation values are from 0dB to 32dB. Other values available.
AK0405 Chip Attenuator Configuration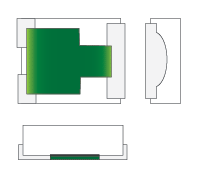 1/4 Wraparound on either side of chip for face (film side) down solder or epoxy surface mount attachment
Click on link for available Data Sheet. For more options, please contact us with your requirement.

(Click on column header to sort)
Ordering Information
Below is Barry Industries'
standard 1/4 Wraparound chip attenuator
. Engineers are welcome to
contact us
and we will design a
custom 1/4 Wraparound chip attenuator
to your exact specifications.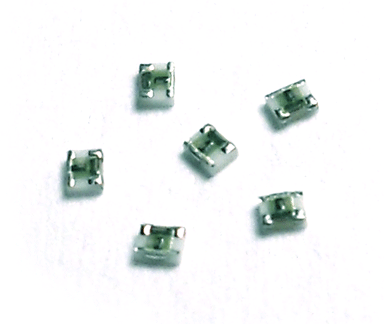 Other Available Configurations

CW Power
(Max) (W)

Value
(dB)
Size

Thickness
(Max)

Substrate

Metalization

Freq.
(Max) (GHz)

RoHS

Part Number Prefix/
Data Sheet
0.15
0.25 - 32
0405
0.015"
Alumina
SnPb over Ni over Ag
4
No
AK0405CB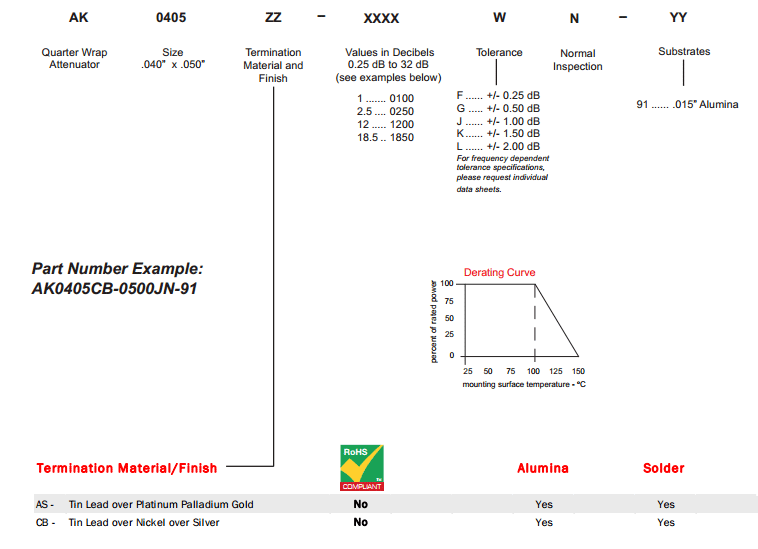 AK0405 1/4 Wraparound's design allows for face (film side) down mounting which preserves continuity between the resistor element and circuit traces thus minimizing mismatches. Additionally the 1/4 Wraparound terminal provides a 'solder fillet' to aide in visual inspection on the solder joint.